Who is Plug & Study?
Under the brand name PLUG & STUDY, Stefan Frey AG manages its division of fully furnished micro apartments for students and people in training.
Our stock corporation, founded in 1997, develops and manages real estate in the greater Cologne area and in the Rhineland. The Management Board members are Ms. Antje Leucht and Mr. Stefan Frey (sole shareholder).
To date, the company has completed real estate worth around two billion euros. The development measures include condominiums, single-family homes, kindergartens and publicly subsidized housing.

A total of 760 terraced and semi-detached houses and 1550 apartments in 149 apartment buildings have been refurbished or newly built (as of January 2022).
Currently, plots of land in the order of 200,000 m² are being developed, planned with property development measures and implemented. Apartments and houses sold by the company mainly serve the medium price segment.
Basically, real estate should always be affordable! The sale of the real estate units takes place via INTERHOUSE Immobiliengesellschaft, a subsidiary of Frey AG. The local heating contractor RENT-ON!, which belongs to the company group, supplies residential units with heat mainly from biomass.
The company owns real estate with a rental area of more than 100,000 m² with around 545 units via associated companies:
Apartments (privately financed and publicly subsidized), offices, stores, kindergarten and supermarkets. The real estate is managed in-house and continuously expanded.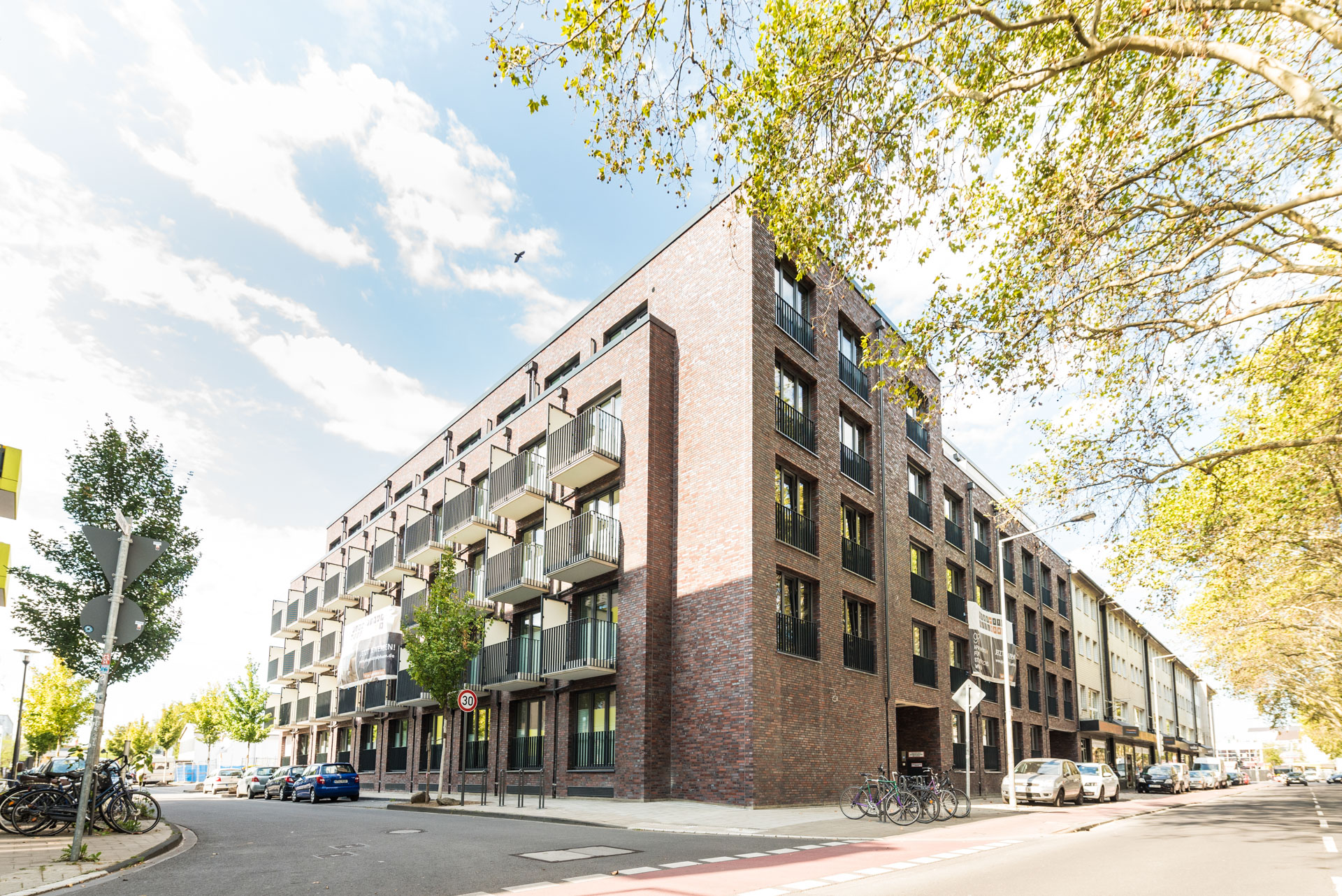 For the construction of the all-inclusive apartments, we have found the ideal place in Cologne and Aachen: a prime location in the heart of the trendy district of Cologne-Ehrenfeld and at the foot of the Lousberg in one of the best residential areas in Aachen-Mitte. Very close to the universities.
Example above: All-inclusive apartments in Cologne-Ehrenfeld, 93 units, 5 types, 1 all-inclusive rent.